Studio Interview: Jewellery Designer Kimberly Ebbeck
Posted on March 18th, 2013
Picture this: Sydney. Rain. Days on end. Insert a new day, a break in the clouds and a short little train trip from Sydney to Thirroul in the sunshine. Glorious! Then picture one focused, dedicated and seriously beautiful jewellery designer accompanied by one cute little dog called Grumpy Ben (my adaptation) and one handsome husband (suffering gallantly through a serious serious case of man-flu) on said glorious day and you have: a little slice of Heaven (and me considering relocating to the south coast!). My very first interview and studio visit is features jewellery and object designer Kimberly Ebbeck. I've known Kim since design school and have had the pleasure of intermittedly catching up with, sharing coffee/making stories and exhibiting with her over the last few years. She's a bit of a gem…cheeky, warm, focused and determined – all of which are stellar qualities considering her passion is hair weaving! Yep – Hair Weaving! It sounds sssooo interesting, right?! It absolutely is!
Kim's studio practice primarily focuses around weaving human and horse hair to make silver jewellery and exhibition pieces. Arguably one of the most famous examples of human hair used to adorn the body was during the 18th centry when England's Queen Victoria mourned the death of her husband Prince Albert (for 40 years no less!) by wearing what is now referred to as Victorian Mourning Jewellery. It  became quite the fashion statement to mourn death and dress in head to toe black whilst sporting carved jet jewellery  and or your deceased's finest lock of hair. Kim focuses on the hair part, and instead of mourning she prefers to celebrate life by using the hair of those around her that she loves and adores. At first mourning jewellery can be quite confronting – it is after all it's actually human hair, but when you get past that there is something truly beautiful to be found in the context, technique and the detail. Kim began experimenting with hair weaving during her final year of study at The Design Centre Enmore and over the past 4 years she has refined her skills and learned new weaving moves to take this traditional technique confidently into a contemporary setting.  

Tell us a bit about your background and the journey that has lead you to where you are today as a jewellery and object designer specializing in hair weaving

I've always created things and crafted pieces out of miscellaneous objects, I didn't know contemporary jewellery even existed as a creative outlet but boy when I found it did my ideas change! Miniature art that can be worn… yes I think I like this world.

In my final year of study in the jewellery and object design course at Enmore Design Centre I explored hair weaving as an elective. The following year I went on to a residency where the lovely people of Sturt contemporary craft centre took me under their wing. I worked there for the next 3 years, tutoring in the jewellery workshop. I believe I kept with the art of hair weaving due to the kind supportive words of my peers and tutors at Enmore. Learning such a unique skill really made myself aspire to get that niche market. Exhibiting with the hair as a main medium is always a talking point. I have also held stalls at equestrian events, and advertise in equine magazines this has greatly helped to build my brand Hairlooms to where it is today.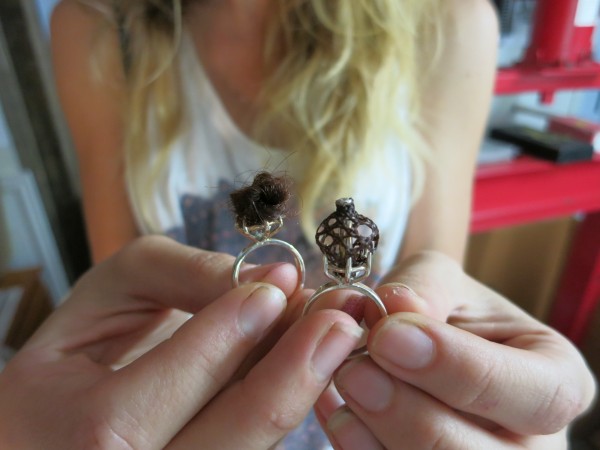 Weaving at it's best! These two rings are from a series Kim made in 2012 in which she invited the viewer to reconsider initial judgements surrounding human hair weaving and perceived judgements relating to context and value. Photograph: Sonya Scott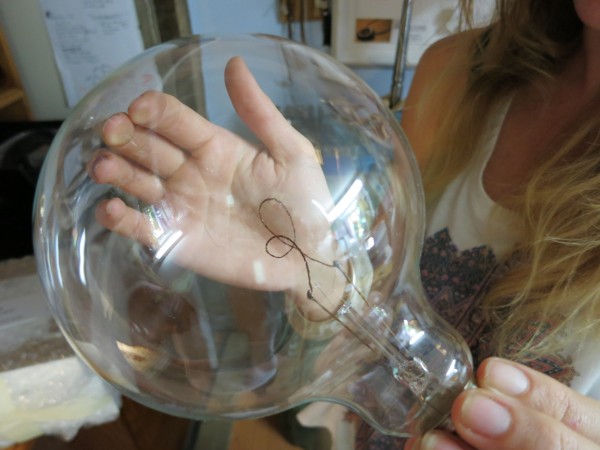 "The Flame Eternal" 2012, human hair, glass, aluminium, 17cm x 10.5cm.
This is one of Kim's most recent exhibition pieces. The globe's filament has been replaced with woven hair  from Kim's step-mother. Conceptually this piece represents the light in her father's life, that being his wife.  (Sigh!)
What is it about hair weaving and incorporating this technique into jewellery that excites you? What made you want to express through this medium?
Hair is such a personal thing, the textures are completely different yet they compliment each other, I love that hair can be created into fabric like rope and has a strange characteristic once woven into different forms.
I feel using this medium is exactly what I needed to explore jewellery being about a significant event in someone's life, it is literal without having a photo or image but yet can be so secretive in its appearance. The major response is that people can't believe its hair.
 What processes are involved from conceiving a new idea for one of your pieces to actually making it? Do you outsource any significant tasks? 
I've tried casting my main pendant pieces but it's just not the same. I like to make mistakes and then solve them, making it all from the beginning. In the case of exhibition pieces I'll often make a miniature prototype or test if a certain connection will work. I'll sketch pieces out, but almost in a language/scribble that only I can really interpret!
Silversmithing involves many processes, especially when staring from sheet metal: cutting, forming, soldering, filing, and polishing. Weaving the hair involves at least a few hours of preparation: cleaning, sorting the strands, tying in the weights, weaving the pattern, securing the hair in position, then combining the two and TADA its done!
Recently you went on an outrageous South American adventure with your handsome husband. South America has a strong history and contemporary presence in hand made pieces, across many mediums. Where you influenced by anything you saw? 
There are so many inspirational aspects over there. From the landscapes, especially in Bolivia to the wildlife in the Amazon. The materials used in crafts seemed quite resourceful. I liked the use of dry cacti in furniture, the vibrant colours of the macaws and the construction techniques of Machu Pichu and the Incan empire. Contemporary museums and galleries were great, the MAC Niteroi in Brazil was architecturally amazing, and it looked like an evil villains lair, and held some amazing pieces of contemporary art. There's no way in the world that you could go to South America and not be influenced.
The main hunt for me over there was to find this small town called Rari in Chile where the art of Crin originates. The community here dye and weave horses hair all by hand, and create amazing pieces. It is an experience I am so grateful for.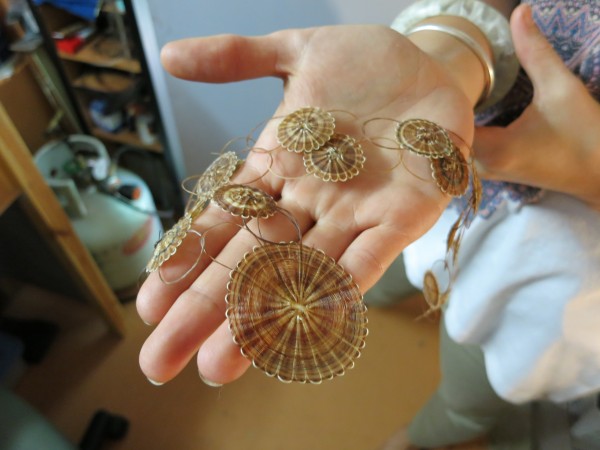 Woven Horse Hair from Rari, Chille. Photograph: Sonya Scott
What does a typical studio day in the life of Kimberley Ebbeck look like from when you wake to when you go to sleep?
When I'm lucky enough to get a full day, it begins with a 'to-do' list; otherwise I get distracted and start making a ring for myself!
My studio is 10 steps from my house and is a hobbit of a studio, but hey a bench is all you need. I'll generally weave hair in the evening, for a strange reason it's calming and the daytime is too chaotic for this process. So the day would begin with me creating a pre-ordered pendant using woven horsehair. All hand made, the silver punched out using my hydraulic press, which takes, up most of the space in my pixie size studio. I then create a back plate for the pendant, soldering and polishing and creating a cold connection for the hair to be secured safely into. Meanwhile I've possibly taken a photo or 2 of the progress and put it on instagram! Once the piece is complete, I'll make personalized packaging for it. Usually the pieces are a memento from a horse that has recently passed, so I like to make a card with the horses name and left over woven hair as an extra keepsake for the customer. Then its coffee time!
The typical day may also include a repair or a simple ring to make for an order. I always have a few things on the go when I get that precious full day in the studio! Production pieces are often made once a month, in a big bunch. The day will end with me mailing the pendant and contacting the customer to assure them that there piece is complete and safely on its way.
What is your creative dream project?
I'd love to do a solo but collaborative show, or as I like to call it a story. It has been in the mind pipeline for a few years, I want to share peoples story through using their own hair in conjunction with designed objects, which are reflective of them. I think the experience of meeting people and exploring their story, then having themselves represented as a piece would be empowering. Possibly having the time to make all the pieces in a residency in South America, hey we can all dream!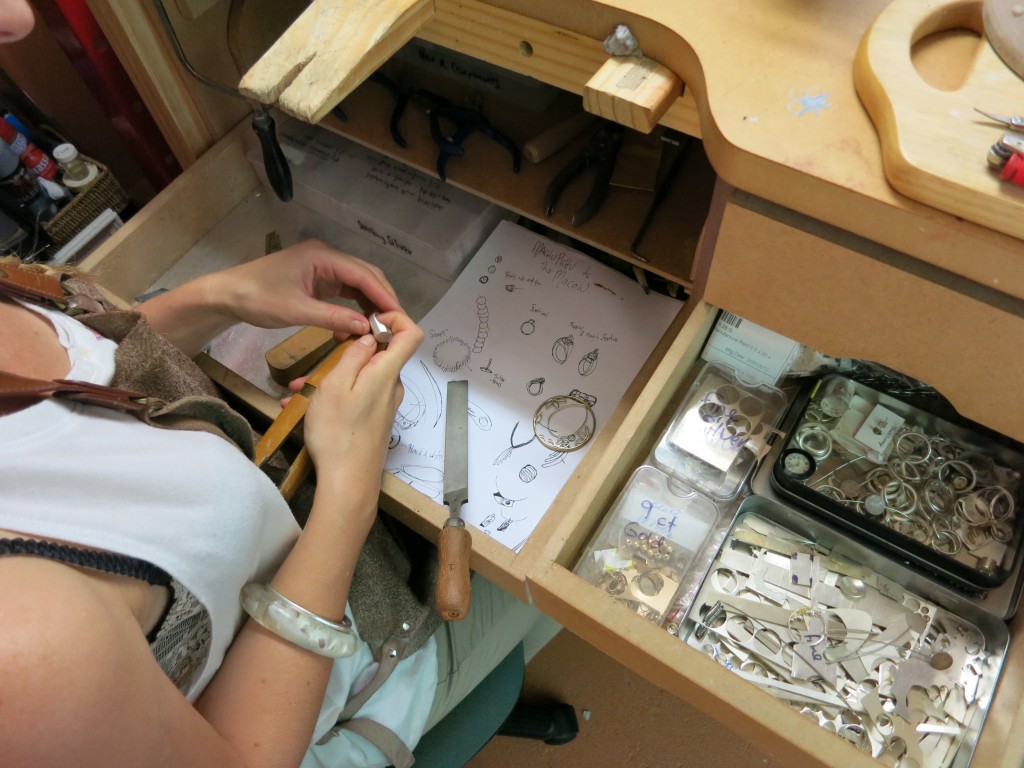 Photograph/s: Sonya Scott
I'm personally obsessed about food….Do you have any food obsessions right now that you want to share?
Loving all the grains at the moment, all the rage of quinoa has gotten to me, it's so tasty and easy to cook! Polenta and nuts and following the blog of berries and scotch has gotten me on to more whole foods and cooking with real ingredients, not the 'fake' things (there's even a recipe for nutella on the blog, made from scratch…mmmm yum)!
What type of resources do you turn to when you need creative inspiration for a new piece/body of work?
-Always pinterest, but then I often find a yummy recipe and get side tracked.
-I always turn to photographs. I'm a sucker for detail, even in everyday life. I'll photograph the textures or details then hoard the photos until they are required and put into use as an ideas board.
-My silver scrap draw is also a source of ideas, I'm a doer not a drawer, so I'll often begin making things and test them, so there are always 1/2 finished ideas floating around in there.
(See attached image for said silver scrap drawer. Holey Smokes! I could poke around in there allll day!)
Which artists/jewellers/designers are you loving right now?
I've always loved Krista McRae's jewellery and artist Lisa Madigan has a great sense of style, I follow her instagram, and love that she provides an insight into her art/studio/home/lifestyle.
I'm also loving my web/graphic designer, but I may be a bit biased, as he is my husband!
Where can we see more of your work?
I've just finished up a 3month group exhibition at Wollongong art gallery which was called Local Current, maybe these exhibition pieces may get into another show. I'll keep you all posted through my website and facebook page!
I also have pieces in Sturt gallery in Mittagong, and Milk thieves in Wollongong. A range of my commission pieces can be seen on my website http://www.Hairlooms.com.auand also on facebook.